LienVietPostBank senior official returns after dismissal
Nguyen Duc Huong has been voted to the chairman's post of LienVietPostBank's board of directors for the term between 2013 and 2018, after a month's dismissal as its vice chairman.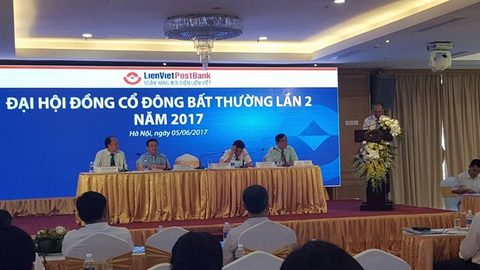 LienVietPostBank's second extraordinary shareholders meeting for 2017 was held on Monday to vote the bank's senior personnel changes
.
The election was part of the senior personnel changes approved at the bank's second extraordinary shareholders meeting for 2017 held on Monday.
The vote came after the shareholders meeting passed the dismissal of Duong Cong Minh from the board of directors' chairmanship.
At the meeting, Pham Doan Son was also voted to the post of permanent vice chairman of the board of directors cum director-general of the bank.
Previously on April 26, LienVietPostBank's first extraordinary shareholders meeting removed Huong from permanent vice chairmanship of the board of directors. At that time, Huong's dismissal was aimed at making him a candidate for a position at Sacombank's board of directors; however, he then decided to withdraw officially from the list of Sacombank's candidates a month later.
After the merger with the Vietnam Post Corporation (VNPost) in July 2011, LienVietPostBank is a joint stock commercial bank with the largest network of more than 10,000 transaction offices at all 63 cities and provinces nationwide.
The bank's total asset by May 31 reached nearly VND148 trillion (US$6.49 billion). The bank posted a pre-tax profit of nearly VND1.35 trillion last year, and the number for the first quarter this year was more than VND470 billion.
As for Sacombank, the market is waiting for its senior personnel changes. The bank is due to organise its 2017 annual general meeting (AGM) on June 30, after postponing twice the AGM that was scheduled for April 28 and May 26, owing to incomplete preparations for electing the personnel of the board of directors and board of supervisors for the new term between 2017 and 2021.
According to the recently announced resolution of Sacombank's board of directors and board of supervisors for the term between 2017 and 2021, candidates for the bank's top positions have gradually been revealed.
In addition to the familiar names who are currently leaders of Sacombank, such as the Chair Kieu Huu Dung, Vice Chair Nguyen Mien Tuan, Nguyen Van Cuu, or Nguyen Xuan Vu, the list of candidates included two names who were closely associated with LienVietPostBank brand Nguyen Duc Huong and Nguyen Thi Bich Hong (candidates for BOD's independent members), in which Huong is a highly appreciated name.
However, after the withdrawal of LienVietPostBank's Huong and Hong, Sacombank on Monday said that it would nominate two other candidates as the board of directors' independent members to meet the deadline for its 2017 AGM in late June.