Hospital director suspended after eight dialysis deaths
The director of the biggest hospital in Hoa Binh Province, where eight patients died after having dialysis last week, has been suspended till investigations into the incident are over.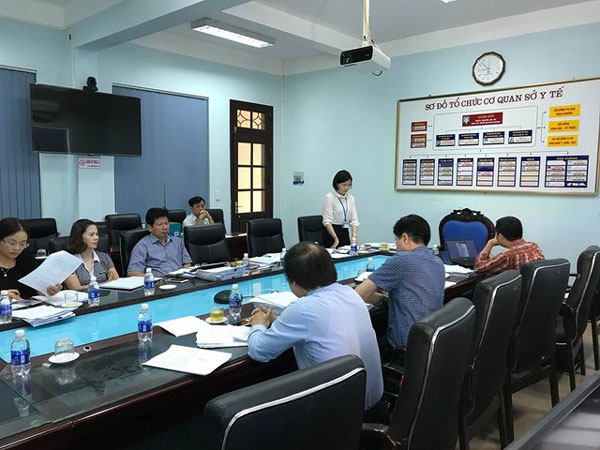 A special council set up by the Hoa Binh health department meets on Thursday morning to study the cause of eight deaths post-dialysis at Hoa Binh General Hospital last week. -Photo dantri.com.vn
On Thursday morning, Tran Quang Khanh, director of the province's health department, announced that Truong Quy Duong, director of Hoa Binh General Hospital, had been suspended for 15 days.
Two other hospital employees, Tran Van Son from the supplies-equipment division, and Do Thi Hiep from the intensive care department, have also been suspended for 15 days to assist the investigation into the largest fatal medical incident in Viet Nam's history.
The incident took place on May 29, when seven of the 18 patients undergoing dialysis at Hoa Binh hospital displayed symptoms of anaphylactic shock and died soon after. Another patient who was also one of the 18 having dialysis that day, died seven days later because of multiple organ failure from unknown cause, raising the death count to eight.
The other ten kidney patients were rushed to Bach Mai Hospital in Ha Noi and receiving free treatment. They were said to have recovered and were discharged from the hospital on Thursday.
The patients will continue receiving outpatient treatment (periodical dialysis) three times per week at Bach Mai Hospital.
Khanh told the Vietnam News Agency that preliminary investigations indicate that water contamination may have led to the tragedy.
The official cause of death, however, has not been declared, and 11 leading medical experts, who are part of a special council set up by the municipal health department to look into the case, is studying the incident. The council held a closed meeting on Thursday morning.
Health Minister Nguyen Thi Kim Tien said the council would announce its conclusion later this week.
The police are also running their own investigation, and visited the hospital on Wednesday. They inspected dialysis procedures and collected medical samples used for 18 dialysis patients on May 29.